Join Dana every month, in the comfort of your own home, for New and Full Moon practices, meditation, and sacred ritual using oils and crystals.  Create a deep, personal connection to the Divine via the Moon and connect deeper to your truth by aligning with Her cycles!
"I have been interested in Hatha Yoga for over 17 years now and I've always been intrigued with astrology and the celestial orchestra that is happening in the sky without our direction." Says Dana. "It's all finally beginning to make sense, where my passion has come from."
This offering, the 13 Moon Mystic, is open to men and women aiming to create a deep, personal connection to the Divine, via the Moon in all her glory. 
Each month you will receive in your inbox, digestible, usable tips and tricks supporting you in your personal practice and simple rituals you can share with your students if you are a teacher or healer.
Each month you have access to: 
New Moon and Full Moon Aspects
General intention setting guidelines for the New Moon
Ritual for the Full Moon
Suitable meditation for the Lunar cycle
Suggested essential oils that enhance your practice.


When does the subscription start and finish?
The program officially starts on January 1, 2020 and ends December 31, 2020.
Can you read my chart?  
Yes, I read natal charts and am available for readings by booking appointments on my site.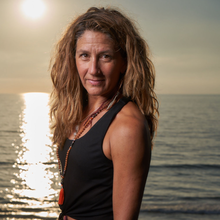 Mystic, Soul Empowerment Coach
Dana Damara
Dana Damara is one of the Bay Area's premier yoga instructors and leading advocate for women and young girl empowerment. She is a mystic, a mother, a teacher of teachers, and an author. She traverses between the mystical realms, and real life drama of a mother of two teenage girls. She is an activist for women of all ages: committed to feminine embodiment, self-love, sisterhood, sacred ceremony and ritual, and creating a safe space for evolution. When she's not leading one of her fiery, Moon Mystic Classes, she may be facilitating a retreat, hosting a women's Moon Circle, empowering her clients, creating an inseparable tribe with her Embody Truth Teacher Training program, or simply hanging out with her daughters during down time from school.She believes that the body has many depths. What happens on the outside is simply a reflection of what is going on inside. It's just a matter of how awake we are to that wisdom. Kama, Artha, and Dharma must be in alignment in order to be liberated from the lower levels of negativity that keeps us stuck. If we want liberation, we must do the work and it is all based on self-inquiry, exploration, and discovery.
1

Full Moon Lunar Eclipse Gemini

4

Lion's Gate Activation Meditation

5

Full Moon Eclipse - Capricorn

6

New Moon Cancer - Solar Eclipse

8

Jupiter - Pluto Conjunction

12

New Moon Solar Eclipse Capricorn
Pricing options
Explain how different pricing options might be valuable to different segments of your audience.