REIKI TRAINING AND ATTUNEMENTS


Would you like to learn:
How to harness your own energy for optimal living?
Sacred techniques on how to heal yourself?
Development of internal sacred space clearing?
How would you like to add management of energy to your:  everyday living, yoga practice, yoga teaching, retreats, healing sessions, massage sessions?
Reiki is an ancient and sacred practice that has been passed down through lineages and teachers, but one thing remains the same:  we have the innate ability to heal ourselves if we believe in the power of our own energy.
Required book Essential Reiki: A Complete Guide to an Ancient Healing Art
ZOOMS CALLS BEGIN OCTOBER 6TH AT 10:00AM PST FOR 4 WEEKS.
OPTIONAL FACEBOOK GROUP FOR THOSE INDIVIDUALS ENROLLED IN YOGA TEACHER TRAINING NEEDING MORE SUPPORT
ZOOM CALLS ARE NOT MANDATORY
ALL OF THESE ONLINE PROGRAMS QUALIFY FOR 300 HOUR CONTINUING EDUCATION THROUGH EMBODY TRUTH YOGA TEACHER TRAINING. PLEASE EMAIL DANA WITH INQUIRY ABOUT THIS CERTIFICATION.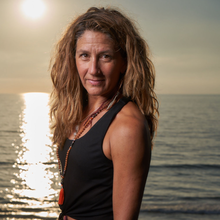 Mystic, Soul Empowerment Coach
Dana Damara
Dana Damara is one of the Bay Area's premier yoga instructors and leading advocate for women and young girl empowerment. She is a mystic, a mother, a teacher of teachers, and an author. She traverses between the mystical realms, and real life drama of a mother of two teenage girls. She is an activist for women of all ages: committed to feminine embodiment, self-love, sisterhood, sacred ceremony and ritual, and creating a safe space for evolution. When she's not leading one of her fiery, Moon Mystic Classes, she may be facilitating a retreat, hosting a women's Moon Circle, empowering her clients, creating an inseparable tribe with her Embody Truth Teacher Training program, or simply hanging out with her daughters during down time from school.She believes that the body has many depths. What happens on the outside is simply a reflection of what is going on inside. It's just a matter of how awake we are to that wisdom. Kama, Artha, and Dharma must be in alignment in order to be liberated from the lower levels of negativity that keeps us stuck. If we want liberation, we must do the work and it is all based on self-inquiry, exploration, and discovery.
1

Content Sharing Agreement

What Is This Class All About?

2

Reiki: History and Foundations

Reading: Essential Reiki: Pages 8-27

Omwork: Read & Reflect: The History of Reiki

Omwork: Gokai - The 5 Reiki Precepts

3

Reiki: Spirit and Symbols

Reading: Essential Reiki: Pages 28-52

Omwork: Reiki Precept Journal

Universal Life Force Energy

4

Reiki: Attunement - Reflection

Meditation to Meet Your Guides

5

Omwork: Reiki Self-Treatment

6

Reiki: Plants, Pets, and People

Omwork: Reiki Precept Journal

Reiki for Pets, Plants, and Food

Omwork: Reiki for Pets, Plants, and Food

Omwork: Energetic Hygiene

7

Omwork: Reiki Precept Journal

Omwork: Course Evaluation