Sometimes we forget that we are an energy magnet.  Our bodies wander about the day, and everything and everyone we come into contact with, has an effect on our body whether we know it or not.  Additionally, we are not limited to physical connecting either. As our world moves to a more "virtual" experience, it is important to understand that energy transmits through waves we can't see.  We can pick up other people's energy on the phone, via the internet, even telepathically.  Therefore, it's imperative to learn how to clear your energy so you can support yourself in an optimal living experience.  

In this course you will learn:
1. Simple ways to keep your energy clean. 
2.  Rituals you can perform each morning to start your day clean and clear. 
3. Mid-day processes to keep yourself free from stagnation and boredom.  
4.  Evening rituals before you go to bed that will clear away negative "interference".

As a byproduct, you will learn how to set meaningful, loving boundaries for yourself and sustain a safe "distance" energetically.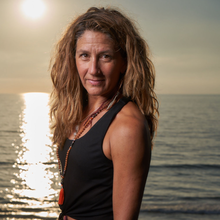 Mystic, Soul Empowerment Coach
Dana Damara
Dana Damara is one of the Bay Area's premier yoga instructors and leading advocate for women and young girl empowerment. She is a mystic, a mother, a teacher of teachers, and an author. She traverses between the mystical realms, and real life drama of a mother of two teenage girls. She is an activist for women of all ages: committed to feminine embodiment, self-love, sisterhood, sacred ceremony and ritual, and creating a safe space for evolution. When she's not leading one of her fiery, Moon Mystic Classes, she may be facilitating a retreat, hosting a women's Moon Circle, empowering her clients, creating an inseparable tribe with her Embody Truth Teacher Training program, or simply hanging out with her daughters during down time from school.She believes that the body has many depths. What happens on the outside is simply a reflection of what is going on inside. It's just a matter of how awake we are to that wisdom. Kama, Artha, and Dharma must be in alignment in order to be liberated from the lower levels of negativity that keeps us stuck. If we want liberation, we must do the work and it is all based on self-inquiry, exploration, and discovery.
1

What is Energetic Hygiene

2

Dry Brush, Oils, Oil Pull