You have essential oils .. now what?  Put them in your diffuser?  Make fun smelly things with them?  Use Lavender for everything? 
NO... well yes but it's more than that.  Essential oils can truly become a way of being healthier, more alert, aware and awake to the world.  And this course will show you how.  

In this course you will:  
1.  Understand why you "should" use essential oils.  And what contraindications can you look for first.  
2.  Learn how to use essential oils in your home, on your body, in your food, in your life! 
3.  Learn tools on how to eliminate the toxic load in your home and office, one room at a time. 
4.  Optimize all layers of your being with essential oils:  physical, mental, emotional, spiritual and energetic layers affected with oils. 
5.  Gain access to education tools that you can use every day to change your life and choice around essential oils.  
6. How to get started using essential oils in your life.  

I've been using these oils in my home for years, on my children since they were babies, and for my own healing since I can remember.  I use these oils every single day as a way to connect to the Divine because there is a lot of interference out there if you haven't noticed.   These oils are tricky and magical but easy to use honestly.  And their healing properties drop right into your cellular-being so you needn't wait and wait for results.  No, you just need to believe.  
This course launches October 15, 2020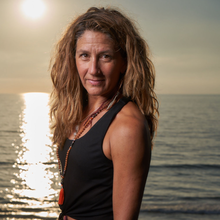 Mystic, Soul Empowerment Coach
Dana Damara
Dana Damara is one of the Bay Area's premier yoga instructors and leading advocate for women and young girl empowerment. She is a mystic, a mother, a teacher of teachers, and an author. She traverses between the mystical realms, and real life drama of a mother of two teenage girls. She is an activist for women of all ages: committed to feminine embodiment, self-love, sisterhood, sacred ceremony and ritual, and creating a safe space for evolution. When she's not leading one of her fiery, Moon Mystic Classes, she may be facilitating a retreat, hosting a women's Moon Circle, empowering her clients, creating an inseparable tribe with her Embody Truth Teacher Training program, or simply hanging out with her daughters during down time from school.She believes that the body has many depths. What happens on the outside is simply a reflection of what is going on inside. It's just a matter of how awake we are to that wisdom. Kama, Artha, and Dharma must be in alignment in order to be liberated from the lower levels of negativity that keeps us stuck. If we want liberation, we must do the work and it is all based on self-inquiry, exploration, and discovery.
1

You Have Oils ... Now What?

How to use Essential oils

Omwork - Suggestions for further learning

2

Reduce Toxic Load from your life

Omwork - Suggestions for further learning

3

OPTIMIZE - Radical Empowerment

Omwork - Suggestions for learning

4

Tools for your Essential Oil Box - Get Started!