*Global - THIS IS THE ONLY ONLINE PROGRAM that is self-directed but
Dana Damara will be present at every Zoom call for your questions.  

NEXT MENTORSHIP BEGINS  TUESDAY, SEPTEMBER 15,  2020 AND FINISHES NOVEMBER 17, 2020

2021 MENTORSHIP BEGINS  TUESDAY, APRIL 6, 2021 AND FINISHES JUNE 8, 2021

MEETING DATES AND TIMES ARE:

TUESDAYS at 11:00am - 12:15pm PST

40 hours toward your Advanced TT  
Includes:  

(10) group phone calls - once per week

Calls are recorded so you can listen in at your convenience

Group Dynamics via Facebook

After doing this for awhile I've noticed that many teachers ask the same questions and have the same issues. I've also noticed that when yoga teachers really drop into their craft, they can't help but want to support each other. After traveling the US and other areas of the world, I've been able to make this my job, my thing, my mission.  And I want to support other teachers …whether they step on the mat with me in a class, host sessions at their workplace, or use their craft in their home life … I thrive when I empower teachers.  

I will offer one call a week with you. If you cannot make it — we will record it, however, understand that when you show up to the call, you actually have the opportunity to have your voice heard and your questions answered.  There will be opportunities to send in questions and concerns prior to the call and of course you will be able to listen to the answers after the call is complete.  

Topics we cover:
Your Passion and your Blocks
Your Value and Worth
Your Path - Curating your brand
Your Back Office - setting up shop
Networking and media outlets:  Choose Wisely
Financial Abundance -
Diversify Your Income streams
Free - collecting emails - cost variances
How to:  Online Events/Create Content
Set Up:  Workshops/Retreats
Create and Sell:  Products
No matter where you are on your trajectory of teaching and sharing this timeless practice, you can benefit from this program.  It's always evolving and growing so you will always have something to share and learn.  
Beyond that you will have access to a private FB group where you and your new tribe can support each other during the entire session.  We cover what YOU need. One of the best things about this program is that when we bring you all together … you thrive.  Like I said, one thing I notice is that teachers want to support each other and this tribe will magnetically attract you to the people you are meant to learn from, work with, and experience transformation alongside.  
We will meet every Tuesday and if you cannot make a session, please note that we will record it for you. I want your voice to be heard so please make as many sessions as you can.  This program differs from the coaching in that mentorship is working alongside what we are already planning in classes and workshops while the coaching is a program designed specifically for your needs and aspirations.  Adjunct forms and document templates available at an additional cost. Send dana@danadamara.com your information if you are interested in any further forms/mentorship.
CANCELLATION POLICY:  



Following your purchase of teacher training tuition, you have a 30-day grace period to cancel. There are no refunds, however, the amount can be transferred to another Embody Truth teacher training program within one year.



For more information about the program, or to enroll, please email: dana@danadamara.com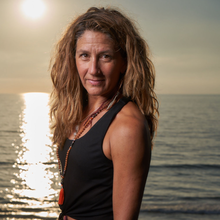 Mystic, Soul Empowerment Coach
Dana Damara
Dana Damara is one of the Bay Area's premier yoga instructors and leading advocate for women and young girl empowerment. She is a mystic, a mother, a teacher of teachers, and an author. She traverses between the mystical realms, and real life drama of a mother of two teenage girls. She is an activist for women of all ages: committed to feminine embodiment, self-love, sisterhood, sacred ceremony and ritual, and creating a safe space for evolution. When she's not leading one of her fiery, Moon Mystic Classes, she may be facilitating a retreat, hosting a women's Moon Circle, empowering her clients, creating an inseparable tribe with her Embody Truth Teacher Training program, or simply hanging out with her daughters during down time from school.She believes that the body has many depths. What happens on the outside is simply a reflection of what is going on inside. It's just a matter of how awake we are to that wisdom. Kama, Artha, and Dharma must be in alignment in order to be liberated from the lower levels of negativity that keeps us stuck. If we want liberation, we must do the work and it is all based on self-inquiry, exploration, and discovery.