I've decided to offer tiers - because of where we are in the world right now - it's important to take on this practice for what it is:  a practice of Oneness.  Therefore I decided to offered three tiers to my offering.  
$36 a month:  Pay it Forward:  You serve one person who cannot afford the monthly fee.
$27 a month:  Committed:  You are committed to this practice on and off the mat.
$18 a month:  Tribe: I love you and you love me.  So we practice together.
**If for some reason you cannot afford this pricing .. reach out to me directly.  There are others in our community that are paying it forward and no-one will be turned away.  
WHAT YOU GET:

* 3-4 LIVE STREAMED classes
* Recorded (Sunday classes in case you miss it)
* Archived Classes since March 2020
* Recorded content: Meditation, Pranayam, Flows, Chanting
* Early access to special offerings, practices and exclusive content.
Online classes can't quite compare to the organic flow of a live, public class. I agree but... I want to be patient and wait and see what is going to happen in our city before jumping into public classes.⁠
⁠
When I do start public classes I will be using the beautiful space in the back of EVE Encinitas.
⁠
So in the meantime, please join me online with these live-streamed and on-demand classes and my pop-up classes around North County. ⁠
⁠
Everyone can benefit from this practice. ⁠When we let go of expectation and listen with our inner ear for the message every time we show up, we drink from the nectar that we call yoga. This practice of yoga is a consistent refinement, or an evolutionary process, that we get to tap into every time we take a breath. 
Join me ... I miss you. Until we can all be together again.  
**I ask that you commit to the  monthly subscription through December 31, 2020 to receive this special discount and access to all content.
Om Namo Lakshmi
D xo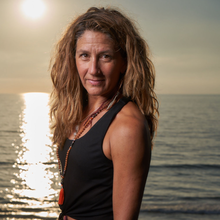 Mystic, Soul Empowerment Coach
Dana Damara
Dana Damara is one of the Bay Area's premier yoga instructors and leading advocate for women and young girl empowerment. She is a mystic, a mother, a teacher of teachers, and an author. She traverses between the mystical realms, and real life drama of a mother of two teenage girls. She is an activist for women of all ages: committed to feminine embodiment, self-love, sisterhood, sacred ceremony and ritual, and creating a safe space for evolution. When she's not leading one of her fiery, Moon Mystic Classes, she may be facilitating a retreat, hosting a women's Moon Circle, empowering her clients, creating an inseparable tribe with her Embody Truth Teacher Training program, or simply hanging out with her daughters during down time from school.She believes that the body has many depths. What happens on the outside is simply a reflection of what is going on inside. It's just a matter of how awake we are to that wisdom. Kama, Artha, and Dharma must be in alignment in order to be liberated from the lower levels of negativity that keeps us stuck. If we want liberation, we must do the work and it is all based on self-inquiry, exploration, and discovery.
1

Tuesday, December 1, 2020

Sunday, December 6. 2020 - POTENTIAL

Tuesday, December 8, 2020

Thursday, December 10, 2020

Sunday, December 13, 2020: NEW PARADIGM

Tuesday, December 15, 2020

Thursday, December 17, 2020

Sunday, December 20, 2020: BELIEVE

Sunday, December 27, 2020: HEALING

2

LIVESTREAM November Classes 2020

Sunday, November 1, 2020: PRESENCE

Thursday, November 5, 2020

Sunday, November 8, 2020: HOPE

Tuesday, November 10, 2020

Thursday, November 12, 2020

Sunday, November 15, 2020: COMPASSION

Tuesday, November 17, 2020

Thursday, November 19, 2020

Sunday, November 22, 2020 - GRATITUDE

Tuesday, November 24, 2020

Sunday, November 29, 2020: CURIOSITY

3

LIVESTREAM: October Classes 2020

Sunday, October 4, 2020: LIBERATION

Thursday, October 8. 2020

Sunday, October 11, 2020 - POLARITY

Tuesday, October 13, 2020

Sunday, October 18. 2020 - AWARENESS

Sunday, October 25, 2020 - BREAKTHROUGH

Tuesday, October 27, 2020

4

LIVESTREAM Chakra Sessions

SUNDAY SESSION: ROOT CHAKRA: LIVE STREAM

SUNDAY SESSION: SOLAR PLEXUS: LIVE STREAM

SUNDAY SESSION: HEART CHAKRA: LIVE STREAM

SUNDAY SESSION: THROAT CHAKRA: MOTHER'S DAY

SUNDAY SESSION: AJNA CHAKRA: LIVE STREAM

6

60 Minute Instructional Video

7

Svadhisthana - Sacral Chakra

Manipura - Solar Plexus Chakra

8

Ganesh: Om Gam Ganapataye Namaha

Lokah Samastah Sukhino Bhavantu

Om Namo Lakshmi Prema Devi Mataji

9

ARCHIVED LIVESTREAM: April 2020

ZOOM CLASS - April 1, 2020

ZOOM CLASS - April 5, 2020

ZOOM CLASS: April 10, 2020

10

ARCHIVED LIVESTREAM June 2020

11

ARCHIVED LIVESTREAM July 2020

12

ARCHIVED LIVESTREAM August 2020

Sunday, August 23, 2020 (outside)

13

LIVESTREAM: September 2020

Tuesday, September 1, 2020

Sunday, September 7, 2020: Inner Compass

Tuesday, September 8, 2020

Sunday, September 13, 2020: Vibration

Tuesday, September 15, 2020

Thursday, September 17, 2020

Sunday, September 20, 2020 - Truth

Sunday, September 27, 2020 - Choice

14

ARCHIVED LIVESTREAM: Meditations
Pricing options
Explain how different pricing options might be valuable to different segments of your audience.