As a yoga professional who's been training teachers for over 12 years, I have had the privilege of watching bodies move in the yoga room. I've witnessed physical limitations, held space for prideful egos, stood in awe of fluid movement, and fully enjoyed an aligned practice.  We've all be on every point on the spectrum at one time or another, but with COVID, it's been challenging at best to ensure students are practicing within their limitations and keeping themselves safe at home.  It was one of the reasons I had resisted putting teacher training and yoga classes on line for a bit.  

And then I surrendered.  I've decided to offer my Postural Clinics On-line. I want to be sure that I am offering the best, most safe practice that I am able, and this was the Divine idea I had to do so.  The bottom line is this:  your safety at home is your responsibility.  And, it's my hope these videos support you in proper alignment and a humility around this practice that is found when one sits in truth in a pose long enough.

One thing is for sure – you can't lie in a pose. If you do, you'll get hurt.  The body knows everything.  These videos/sessions are taken directly from our Embody Truth Yoga Teacher Training program, and I'm hoping it will be useful for your safety, as you practice at home.  

If you are enrolled in the Advanced Yoga Teacher Training program, feel free to do the "Omwork".  If you are not, and do not want CEU's, just use this information for your benefit. Please listen to your body with this practice.  Stay healthy during this time and find ways to support yourself.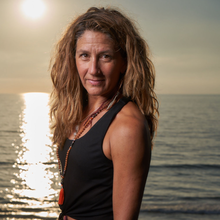 Mystic, Soul Empowerment Coach
Dana Damara
Dana Damara is one of the Bay Area's premier yoga instructors and leading advocate for women and young girl empowerment. She is a mystic, a mother, a teacher of teachers, and an author. She traverses between the mystical realms, and real life drama of a mother of two teenage girls. She is an activist for women of all ages: committed to feminine embodiment, self-love, sisterhood, sacred ceremony and ritual, and creating a safe space for evolution. When she's not leading one of her fiery, Moon Mystic Classes, she may be facilitating a retreat, hosting a women's Moon Circle, empowering her clients, creating an inseparable tribe with her Embody Truth Teacher Training program, or simply hanging out with her daughters during down time from school.She believes that the body has many depths. What happens on the outside is simply a reflection of what is going on inside. It's just a matter of how awake we are to that wisdom. Kama, Artha, and Dharma must be in alignment in order to be liberated from the lower levels of negativity that keeps us stuck. If we want liberation, we must do the work and it is all based on self-inquiry, exploration, and discovery.
1

Postural Clinic: Abdominals Overview

Omwork: Postural Clinic: Abdominals
$306.00

$306.00

Postural Clinic Bundle

Buy Now